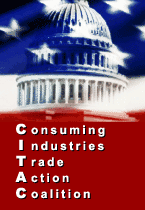 STEEL:
CITAC Fights New Steel Trade Restrictions - Section 201 Campaign
Why New Restrictions are Not the Answer. Read
CITAC Print Ads. View
Listen to CITAC's radio message to President Bush on open trade.
 56 K  |  Broadband  |  Transcript  
(Requires )
Senate Finance Committee Testimony

Testimony of CITAC Chairman Jon Jenson on February 13, 2002. Read

CITAC 201 Remedy Study
CITAC Participation in 2001 International Trade Commission Section 201 Steel Investigation. Read
CITAC Steel Quota and Tax Study, May 2001
Download this major study.
THE BYRD AMENDMENT:
CITAC opposes the "Continued Dumping and Subsidy Offset Act" (the so-called "Byrd Amendment") as a threat to consuming industries, their workers and to the Nation's economy. In addition, CITAC maintains that the amendment violates U.S. World Trade Organization (WTO) obligations. To learn more about the amendment and CITAC's position, please see:
Rushford Report: Arguments for and against the Byrd Amendment. May 2004 Read

CITAC: time to end trade-distorting Byrd Amendment payouts. 5/7/04 Read

U.S. Congress House of Representative members request General Accounting Office to provide a detailed analyses of the Byrd Amendment impact on recipient industry. April 30, 2004 Read

Byrd Amendment million dollar (or more) jackpot winners in 2003. See the list
Congressional Budget Office report on the Byrd Amendment. March 2004 Read
CITAC Issue Brief: The Continued Dumping and Subsidy Offset Act ("Byrd Amendment"),
March 2, 2001 Read
CITAC Letter to Donald Evans, U.S. Department of Commerce - March 2, 2001 Read
Rising Transatlantic Tensions over the Byrd Amendment on Antidumping and Countervailing Duties, November 13, 2000 Read
CITAC Letter to the Honorable Senator Trent Lott, October 27, 2000 Read
CITAC Letter to the Honorable J Dennis Hastert - October 27, 2000 Read
SOFTWOOD LUMBER DEBATE:
Consuming industries dependent on open markets for lumber include homebuilders (including pre-manufactured homes and mobile homes), furniture manufacturers, makers of shelving and other home accessories and other industries. Collectively, these industries employ some six million workers, compared to 200,000 in lumber and allied industries, a ratio of 30 to 1. With the expiration of the Softwood Lumber Agreement, consideration of the welfare of consuming industries must weigh in to any decisions about further restrictions on trade in lumber. For more information on CITAC's positions, please see:
More Bad News For Lumber Users And Homebuyers: Commerce Department Layers Penalties On Canadian Softwood, October 31, 2001 Read
Consuming Industries Say Penalty On Softwood Lumber "Very Troubling" - August 15, 2001 Read
Citac Chairman Jenson Urges International Trade Commission To Heed Consumer Testimony In Softwood Lumber Decision - April 23, 2001 Read
AMMONIUM NITRATE FERTILIZER SHORTAGES:
U.S. manufacturers of ammonium nitrate, claiming injury due to imports from Ukraine, filed a trade case in October 2000. The filing will effectively end imports of ammonium nitrate, a key ingredient in fertilizer, to the United States from Ukraine. These same producers filed a similar case against Russia a year earlier that reduced imports of nitrate from Russia to a trickle. The loss of these important sources of affordable nitrate has put farmers in a shortage bind. The import disruption is complicated by the failure of U.S. producers to makeup the shortfall and meet U.S. demand. For more information on CITAC's position, please see:
Import Restraints Hitting the Heartland: Serious Fertilizer Shortage Threatens Family Farmers - February 13, 2001 Read