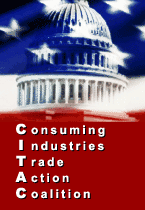 | | | |
| --- | --- | --- |
| | | |
| FOR IMMEDIATE RELEASE  | Contact: | Christina Bucher |
| June 19, 2001 | | The PBN Company |
| | | Tel. |
| | | |
CITAC URGES BUSH ADMINISTRATION TO ENSURE AID TO STEEL INDUSTRY IS CONSTRUCTIVE FOR ALL AMERICANS
Washington, DC - The Consuming Industries Trade Action Coalition (CITAC) today proposed a five-point agenda to President George W. Bush that will ensure that any U.S. Government initiative to assist the domestic steel industry works "to the advantage of America broadly, rather than just a few Americans." CITAC is a coalition of U.S. companies and organizations advocating a trade agenda that features open markets, expanding world trade and common sense consideration of the needs of America's consuming industries.
CITAC "is very concerned about the costs to the economy of U.S. import restrictions," wrote CITAC Chairman Jon Jenson. While opposed to the initiation of a Section 201 investigation, CITAC proposes a five-point agenda "to ensure that help for the steel industry is constructive for all Americans."
The five point agenda includes:
First, steel consumers must have a prominent place at the table when the future assistance to steel producers is discussed. Steel consumers need "full-party status" in the 201 case and a constructive role when potential remedies are considered. Consuming industries employ 50 American workers for every worker employed in steel production. These industries must not suffer from high prices and shortages as a result of relief for the domestic steel industry.
Second, President Bush should clearly and unequivocally declare the Administration's opposition to H.R. 808, The "Steel Revitalization Act," and similar Senate legislation that would impose WTO-illegal quotas on steel imports and flout the United States' international obligations. H.R. 808 is bad for America. The bill violates international law and would encourage steel users to relocate their facilities outside the United States.
Third, a procedure must be established to exempt unavailable steel products from quotas, tariffs or other import restrictions. In hundreds of cases, steel consumers require steel products that are not made domestically. These products are highly specialized and essential to production of everything from automobiles to fire extinguishers. In any 201 relief, it is imperative that consumers have a process for obtaining the steel they need from foreign sources when a domestic source is not available.
Fourth, if Section 201 relief is imposed for any steel product, outstanding trade remedy measures (e.g., antidumping or countervailing duty orders) on that product should be eliminated. Quota or tariff remedies under Section 201 must not be applied along with previous antidumping or countervailing duty relief, as this could effectively lock needed products out of the U.S. market with potentially devastating consequences for U.S. steel consumers.
Fifth, President Bush should not rush to judgment by imposing quotas on a preliminary basis. Interim relief prejudges the outcome of the Section 201 process and forces steel consuming industries to pay the heavy price of protection before it is clear that protection is warranted. In this case, where imports of most steel products have declined, interim relief is not warranted.
"With these common sense measures, assistance for the steel industry need not devastate downstream industries," concluded Jenson, promising that CITAC would welcome the opportunity to work with the Administration and Congress to "reach the best solution to steel problems."
To view CITAC's letter to President Bush and to obtain additional information on CITAC, please visit our website at www.citac-trade.org.