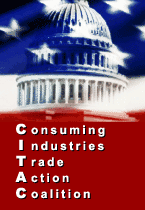 The Consuming Industries Trade Action Coalition
Steel-producing and Steel-consuming Employment for Selected States
Members Of Congress Support Role For Consumers In Trade Policy-
July 18, 2001
STATE

STEEL-
CONSUMING JOBS

STEEL-
PRODUCING JOBS

LARGE STEEL-
CONSUMING SECTORS

STEEL-
CONSUMING V STEEL-
PRODUCING JOBS

California

1,218,046

6,857

Industrial machinery and equipment, transportation equipment, general building contractors

178 steel-consuming jobs for every 1 steel-producing job

Connecticut

197,050

1,939

Transportation equipment, fabricated metal products, industrial machinery and equipment

102:1

Georgia

335,793

1,301

Transportation equipment, fabricated metal products, industrial machinery and equipment

258:1

Illinois

646,968

19,834

Industrial machinery and equipment, fabricated metal products

32:1

Kentucky

220,448

5,374

Special trade contractors, transportation equipment, industrial machinery and equipment

41:1

Massachusetts

247,651

975

Industrial machinery and equipment, fabricated metal products

254:1

Michigan

794,795

11,744

Transportation equipment, industrial machinery and equipment, fabricated metal products

68:1

Minnesota

248,047

1,087

Industrial machinery and equipment, fabricated metal products

228:1

New York

536,399

4,174

Special trade contractors, industrial machinery and equipment, fabricated metal products

128:1

Ohio

769,071

38,797

Industrial machinery and equipment, fabricated metal products

30:1

Pennsylvania

553,315

35,730

Industrial machinery and equipment, fabricated metal products

16:1

Texas

951,563

7,751

Heavy construction, industrial machinery and equipment, fabricated metal products

123:1

Wisconsin

365,933

2,253

Industrial machinery and equipment, fabricated metal products

162:1
SOURCE: The Trade Partnership, derived from data provided by the U.S. Department of Labor, Bureau of Labor Statistics, 1999 (most recent year available).
Employment considered steel-consuming includes workers in the following sectors: fabricated metal products (SIC 34); industrial machinery and equipment (SIC 35); electric distribution equipment (SIC 361); electrical industrial apparatus (SIC 362); household appliances (SIC 363); electric lighting and wiring equipment (SIC 364); transportation equipment (SIC 37); chemicals and related products (SIC 28); tires (SIC 301); petroleum refining (SIC 291), and nonresidential construction (SIC 15 -17 minus SIC 152).
These figures are conservative because data is not available for workers of transportation services, such as railroads and ports.