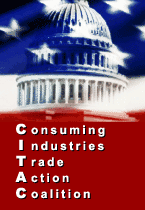 TESTIMONY OF
GORDON JONES
TRILLA STEEL DRUM CORPORATION
HEARING ON UNINTENDED CONSEQUENCES OF
INCREASED STEEL TARIFFS ON AMERICAN MANUFACTURERS
BEFORE THE
HOUSE COMMITTEE ON SMALL BUSINESS
July 23, 2002

Good morning. My name is Gordon Jones. I am a drum loader at Trilla Steel Drum Corporation. My major responsibilities are to make sure that the drums are properly loaded and secured, so that they arrive at our customers' destinations in good shape. I also must be certain that the count of drums is accurate. I am a member of the Sign, Display, Pictorial Artists, and Allied Workers, Local Union #830. About forty-five of Trilla's 70 employees are members of this union.
I have worked at Trilla for over 3 years. Recently, because it has been difficult to get the steel we need to run the drums on our machines, we have started to carefully monitor the hours of production. Also, it seems that during some weeks, there isn't always enough business to fill the hours that we could count on for the last few years. If this is going to get worse, and we lose all of our overtime hours, and even some of our regular hours, because of the lack of steel or because our steel costs make the drums too high-priced, it will leave me and my family in terrible shape. As a father of six, it takes all of my wages to pay the rent and to feed and clothe my family. If my pay is cut, I don't know how we could make it. I know for sure that we could not afford to live where we do now. I'm sure that this would be true for most, if not all, of my fellow union members.
This is a little scary to see - here we have a successful company that is a leader in the industry. Now, all of a sudden there seems to be a possibility that we might have to cut back production or even turn away business because of these tariffs that have nothing to do with steel drums, this company, or my family. They say that these tariffs are supposed to help workers, to save steel jobs, but what about me? I don't understand why the union jobs of steel producers are any more important than my union job. It just doesn't make sense.