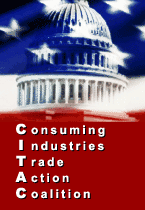 June 27, 2000
CITAC Seminar, Washington D.C.
Speaker Biographies


RICK REINERT founded REHA Enterprises, Inc., an importer of German bath and body products, in 1994 in South Carolina. As the sole importer of OMBRA herbal products, he was able to build a customer base of over 1,200 independent and chain store accounts in five years.
For 14 months, Mr. Reinert fought against a proposed 100% tariff increase in the main product he was importing (herbal foambaths). The tariff increase was a retaliatory action the U.S. took against the European Union after the EU refused to implement a World Trade Organization ruling against its banana import regime. After the tariff was increased, Mr. Reinert was forced to close the business and liquidate inventories.
Mr. Reinert received his B/Sc degree from the University of New York, Albany.