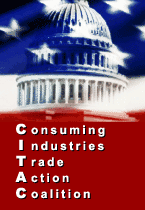 June 27, 2000
CITAC Seminar, Washington D.C.
Speaker Biographies


JON E. JENSON is president of Precision Metalforming Association, the organization representing the $41-billion industry that manufactures precision metal parts and components for autos, appliances, computers and thousands of other products. The industry employs more than 360,000 workers and uses about one-quarter of the steel produced in North America.
Mr. Jenson has been president of the 1,600-member-company association for 25 years, and has been active in trade and regulatory issues for much of that time.
A "Certified Association Executive," Mr. Jenson is a member of the American Society of Association Executives, and is the former president of its Cleveland affiliate. He is past-chairman of the national Board of Regents of the U.S. Chambers Institute for Organization Management, which trains some 2,500 executives annually. He instructed in Institute programs for a number of years at various universities, and consults with several organizations on management issues.
Mr. Jenson meets frequently in Washington on regulatory and other issues, and works closely with the five-nation international organization comprising the metalforming trade associations of France, Germany, Japan, the United Kingdom and the US. He is a graduate of the University of Wisconsin, and completed post-graduate studies (on a Rotary International Fellowship) at the Universities of Frankfurt and Cologne in Germany, and Case Western Reserve University in Cleveland.