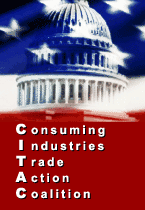 DEFICIENCIES IN THE CURRENT ADMINISTRATION OF THE PRODUCT EXCLUSIONS PROCESS
The Steel Section 201 product exclusion process is a critical element of the President's comprehensive steel plan, in that it will help to minimize unnecessary harm to steel consuming industries. However, we have identified a number of procedural problems with the current product exclusion process, discussed below, that should be corrected to assure fair administration of product exclusions.
1. TONNAGE LIMITATIONS ON EXCLUSIONS ARE UNFAIR
A significant number of the exclusions that have been granted have been conditioned on tonnage limitations.
Because the Administration actively discouraged companies from filing duplicative exclusion requests, there is no reason to believe that tonnage limitations based on amounts in submitted exclusion requests are sufficient to address shortages or unavailability of steel.

We are not aware of any way to allocate this tonnage fairly or rationally. A "race to the Customs House" should be avoided if possible.
2. THE ADMINISTRATION SHOULD NOT ALLOW THE DOMESTIC STEEL INDUSTRY TO FAIL TO ANSWER IMPORTANT PORTIONS OF THE OBJECTORS' QUESTIONNAIRE OR IMPROPERLY TO REDACT KEY PORTIONS OF THEIR RESPONSES
The product exclusion process requires strict adherence to all requirements equally for requestors and objectors. We are concerned that even-handed treatment of requests for exclusion and objections could be lacking.
Companies seeking product exclusions have been informed that their requests would be rejected if they either fail to respond fully to every question raised, or seek to have significant portions of their request treated as business proprietary information. The Administration should assure that objectors' questionnaires are being treated in the same manner. To date, it appears that many of the objections that have been filed do not respond to key questions raised by the administering agencies.

Many of these objections improperly claim proprietary treatment for key portions of their response. While requestors or objectors could properly delete customer names, other information (including aggregate quantities) should not be considered proprietary. It is necessary for all parties to know the significant parameters of the requests and the objections. The administering agencies should not consider objections that do not meet the rules applied to requestors' questionnaires.

Improper claims for proprietary treatment (and the consequent redaction of such information) effectively precludes public scrutiny of these objections or any ability on the part of the product exclusion requestors to respond to the objections raised.
3. THERE IS A FAILURE TO GIVE AN OPPORTUNITY FOR REBUTTAL TO OBJECTIONS RAISED
The Administration has indicated it will reject unsolicited submissions by product exclusion requestors to rebut objections that have been filed to their product exclusion requests. We believe this is clearly unfair to requestors, even if unsolicited submissions by objectors are treated similarly.

Even if the Commerce Department does solicit a response in a particular instance, the domestic steel producers' unwarranted claims for proprietary treatment of their objections (see above) may make it extremely difficult for product exclusion requestors to fully address any objections that have been raised. We repeat that information other than customer names and customer-specific quantity information should be given to requestors to allow for full airing of disputed issues.
4. PRODUCT EXCLUSIONS MUST BE GRANTED ON AN ON-GOING BASIS AFTER JULY 3, 2002
The President's March Proclamation does not appear to specifically authorize granting product exclusions after July 3, 2002, but before March 2003. This deficiency must be remedied.

Some companies will run out of steel in July 2002, and these companies cannot wait until the government is authorized to grant additional product exclusions in March 2003.
5. EXCLUSIONS SHOULD BE CONSIDERED EVEN IF THE NECESSARY STEEL IS FROM COUNTRIES OTHER THAN THE EUROPEAN UNION OR JAPAN
All product exclusion requests that are meritorious should be granted, whether or not the steel needed comes from Europe or Japan. Exclusion requests should not be judged on the country of export of the needed steel.
6. THERE MUST BE MEANINGFUL CONSIDERATION OF SHORT SUPPLY SITUATIONS
United States steel producers at full production supply only about 80 percent of the total amount of steel needed by American manufacturers of products containing steel, such as automobiles and parts, appliances, heavy machinery, fabricated metal products, and farm equipment. Failure to permit imports of steel, even steel of a type that is made domestically, could unduly burden steel consuming industries.

Without imports, the supply of steel that is needed in this country is insufficient. The Administration needs to recognize this and be willing to grant product exclusions based on short supply situations.

We see four situations where product exclusions are warranted:

A needed steel product specification is not made in the United States;
A needed steel product is not available in sufficient quantities to meet U.S. demand;
A needed steel product must be sourced from a qualified foreign supplier; and
A needed steel product is so expensive that the purchaser will lose business and jobs to offshore competition if the request is not approved.