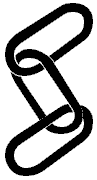 H.R. 808 - You ARE the weakest link!
H.R. 808 failed to get any answers correct in this round&
X It will COST more good, high-paying American jobs than it will protect.

X It will encourage increased IMPORTS of finished, steel-containing products - cars, refrigerators, machinery, electric motors, etc.

X It will conversely HURT steel producers by having a negative impact on their customer-base - steel consumers.

X It will impose a HUGE TAX BURDEN on American consumers generally, at a time they can least afford to pay it.
So, H.R. 808, you ARE the weakest link - Goodbye!

CITAC'S SOLUTIONS:
Give consumers a voice in the steel policy-formulation process;
Allow imports of steel products unavailable from U.S. suppliers;
Do not layer steel quotas on top of other types of import restrictions;
Do not rush the process with an early imposition of steel quotas.
Get all the facts: Call CITAC
The Consuming Industries Trade Action Coalition

citac.info